Strange as it sounds even to me, in October, if you want to write with me, you have two opportunities. The truth is that if you want to write in two extraordinary—but very different—spaces, and write with me, you can do both. Hah! OK, so maybe choose one: big city Bangor in a fabulous new maximizing-our-lives kind of space OR Lowell, just outside of Lincoln, Maine, in a great farmhouse on acres of rolling hills under a bowl of starry sky.
BANGOR & the big city: Tuesday, 10/8, from 6 p.m. to 9 p.m. A WRITING/LIFE WORKSHOP. This 3-hour workshop is about exploring the stories of our lives on the page and having the time of our lives doing it.
AT: The Maine Holistic Center—yes, it's new, and yes, it's fabulous, energetically and visually.
WHAT TO BRING: notebook(s) and writing implement(s). All else will be provided and revealed.
HOW TO BE THERE: www.maineholistic.com. 81 Main Street, Bangor, Maine. $40.
LOWELL & the country: Saturday & Sunday, 10/19 & 20.  WRITE/DANCE/FEAST.  The mushrooms will be ready for gathering. The woods will be in whatever their stage of dress or undress is at the moment. And we will be exploring writing through the lens of food—feast and famine, or whatever food means to you. We are all shaped by our history with the food of our family of origin and beyond.
HOSTS: Suzanne & Bob Kelly at their country place with the dancing barn.
AGENDA: Great food—some provided, some potluck, all of it scrumptious…writing guidance and writing time…opportunities to walk…dancing Saturday evening and Sunday morning if you so choose…off-the-grid charming overnight accommodations and did we mention the food!
DETAILS: Choose the 2-day package ($100) or just come for Saturday ($60—oh, but that dinner and that dancing, and the conversation—OK, so it's an option).
HOW TO MAKE IT HAPPEN: Contact Suzanne Kelly at suziekrm@gmail.com or 745-3147.
ALL OF THE ABOVE WITH ME: Annaliese Jakimides—published in many magazines and collections, including About Face, The Essential Hip Mama, and This I Believe II: More Personal Philosophies of Remarkable Men & Women; also broadcast on NPR, cited in national competitions, and nominated for the Pushcart Prize.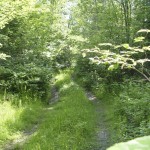 The photo is by my son Tanek and was taken in our old world in northern Maine, a land quite similar to the Kellys' place in Lowell. I'm looking forward to the weekend, the space (inside and outside), the people, the words, the workshop, the food, and, of course, the dancing. It's quite the life! Hope you are part of this story.
—Annaliese  (9/10/13)